CBA (Highlights) and UCAN Opportunities
COLLECTIVE BARGAINING AGREEMENT
The following are extracts of our recent master agreement negotiated with the Construction Contractors Council and with the Mid- Atlantic Association of Subcontractors and Contractors.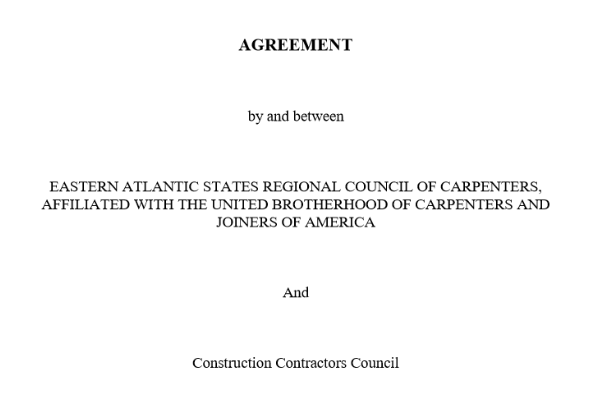 September 01, 2020 - Collective Bargaining Agreement - Final Document.
Para castellano, presione aqui
HIGHLIGHTS
Term Duration
September 01, 2020 - April 30, 2023
Wage Increase Distribution:
Conditional Increase
Article 9 (CBA)
Wages
§ 9.15 In order to be eligible to receive the contractual wage increases on May 1, 2021 and May 1, 2022, a member must have completed at least one Journeyman Upgrading Course or Certification through the Mid-Atlantic Carpenters Training Center in the prior twelve (12) months.

Subject to § 9:15:
Effective May 1, 2021 $1.10 increase to regions 1 and 2 total package, to be divided between wages and fringes.
Effective May 1, 2022 $1.12 increase to regions 1 and 2 total package, to be divided between wages and fringes.
Holidays
§7.1 Days designated as Holidays which shall be paid for at double the straight time rate of pay are New Years Day, Martin Luther King Day, Memorial Day, Independence Day, Labor Day, Veterans Day, Thanksgiving Day, and Christmas Day. In the event that a holiday falls on a Saturday, it shall be observed on the Friday before the Holiday. If a holiday falls on a Sunday, it shall be observed on the following Monday. In no event will any of the above listed holidays be recognized as such more than one day per year.
---
Mandated Training (Pre-requisite)
In order to be able to take in person Journeyman Upgrade Classes, the participant must first complete the following course online as a pre-requisite, or his class registration will get rejected. This class can be taken from the International Training Center Website. For your convenience, it has been put in English, French, and in Spanish.
COVID-19 Preparedness Qualification
The online course purpose is to educate members on how to protect themselves, their fellow workers, and stop the spread of COVID-19. The course will familiarize you with the OSHA guidance document "Preparing Workplaces for COVID-19" and recommended jobsite protocols. It can be done in just couple of hours.
Click here to see the Guide Brochure with Instructions to Log In
This course completion will count as credit towards the UCAN awards and raffles from EASRCC (previously known as MUP).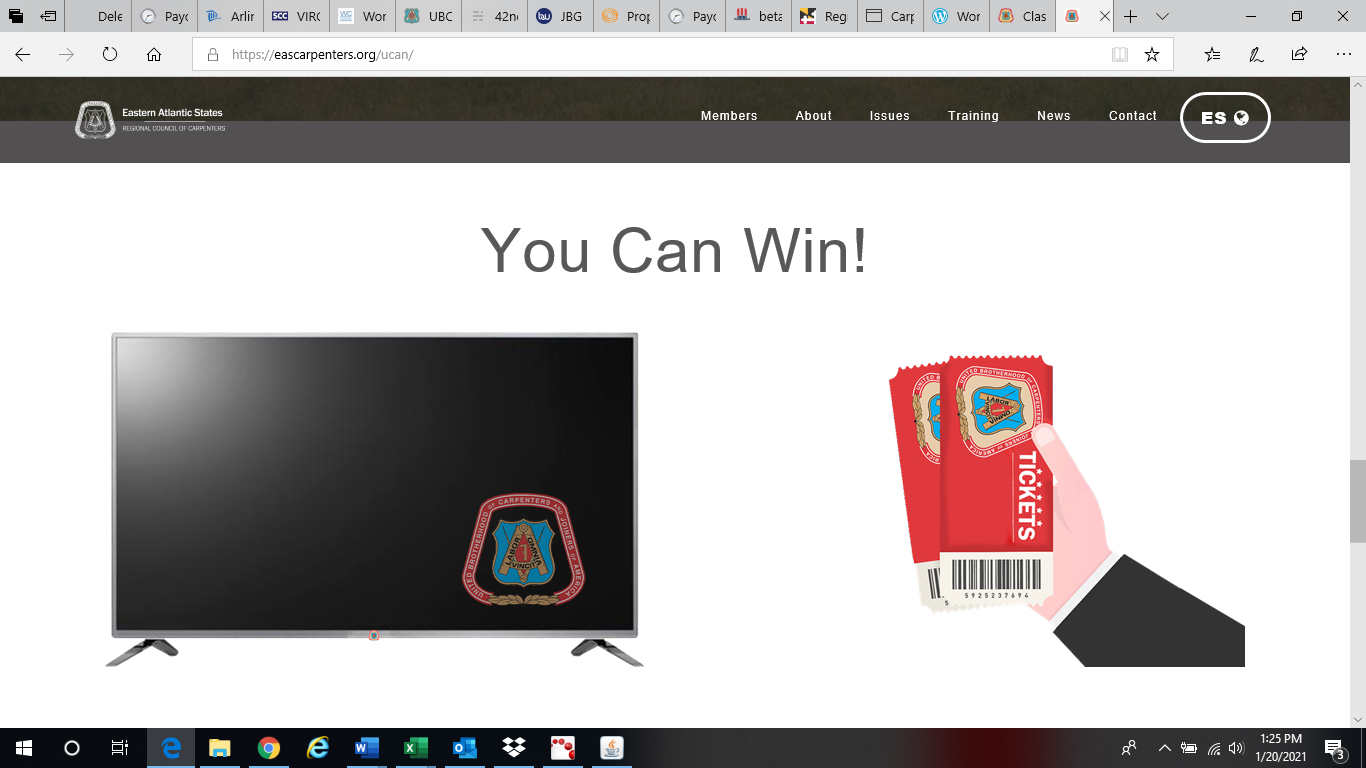 UCAN Do It!
The Eastern Atlantic States Regional Council of Carpenters is proud of their Council-wide effort to make a real impact in our communities and strengthen our union. It is our Community Carpenters commitment to harnessing our collective power to help the community, gain market-share, create real political change, and protect worker rights. Providing real actions that shine a light on how impactful having union carpenters live and work in our communities is.
Do you go above and beyond the call of service?
The Union Carpenters Action Network (UCAN) Incentive Program is here to reward members like you who go beyond the minimum requirements in volunteering UCAN and organizing activities.
For details, click here: EAS UCAN Incentive Program
---