Virginia 10th US Congressional District Debate
2018 Elections
Dear Brothers and Sisters,
On November 6th, we will have the opportunity to do our civic duty in casting our vote to choose whom we want to stand as our next government representatives in the US Congress.
We are living extraordinary times and what is at stake is the future of our children and our country. As individuals and organized workers, it is our duty to bring to your attention of relevant events that we think you should be aware and informed of.
Because it affects us all, our Executive Committee highly recommends you to watch this recently recorded event. We believe it illustrates our reasoning of why our organization should engage in politics in our localities.
On Friday, September 21, 2018, candidate Jennifer Wexton and Congresswoman Barbara Comstock had a debate in their race to become Virginia's 10th Congressional District Representative.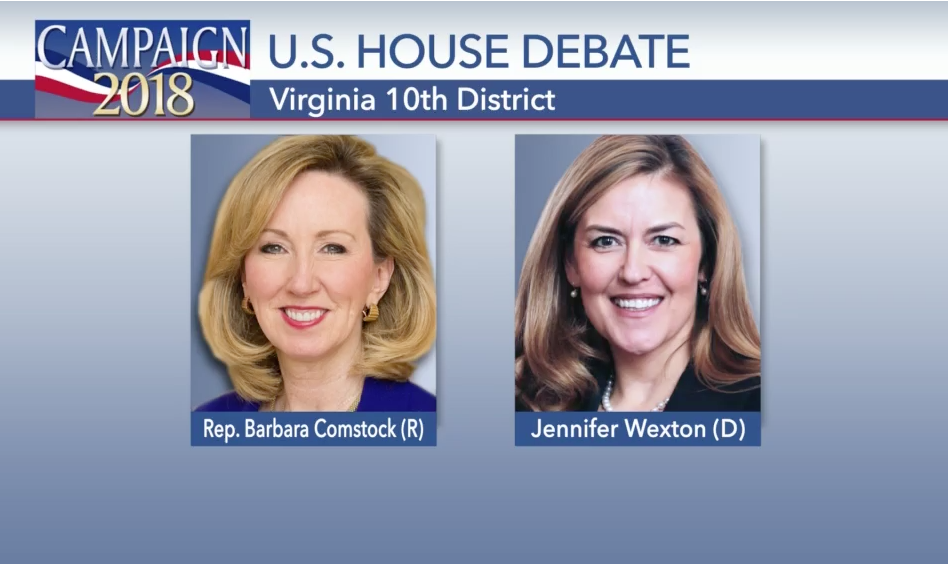 Click HERE to see the video, courstesy of C-SPAN
SUMMARY
For your convenience, here are some highlights from the candidate that our union has endorsed and believe is the best fit to the position.
CANDIDATE JENIFFER WEXTON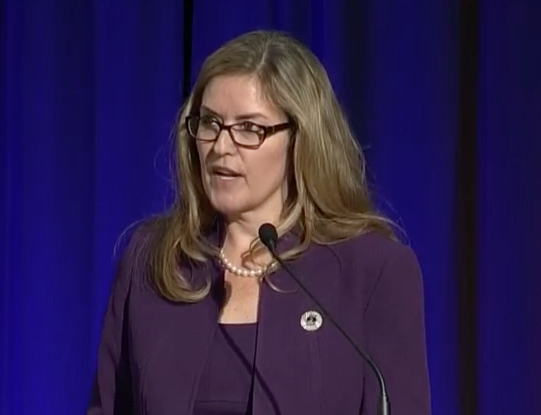 OPENING STATEMENT:
Good morning. I'm Jennifer Wexton and I am running to be your next representative in Congress.
I am a mom, a former Loudoun County Prosecutor and now a State Senator. As a prosecutor, I put dangerous criminals and sex offenders behind bars. As a state senator, I am proud to have passed over 40 pieces of legislation, all with bipartisan support while serving in the minority party.
During my time in the State Senate I have always worked with the chambers from this region to advance the priorities that are important to Northern Virginia businesses and I am proud to have received a 100% score from the Northern Virginia Chamber Partnership. I'm honored to call Leesburg my home for the past 14 years where I live with my husband and two sons who are students at Loudoun County Public Schools.
As a state senator I work hard to make my constituents' lives better, advocating for and passing legislation that eases traffic congestion, makes our children safer, combats the heroin and opioid crisis, and brings more businesses and jobs to Northern Virginia.
I believe access to affordable quality healthcare is a right for all, not a privilege for the few. I'm proud to have been a part of the fight to expand Medicaid here in Virginia this year and extend access to affordable healthcare to more than 300,000 hard-working Virginians, and returned billions of dollars to Virginia's economy.
In the general assembly i have stood up to the gun lobby by introducing and cosponsoring legislation that will implement universal background checks, close the gun show loophole, bring back Virginia's one handgun a month law and ban bump stocks. I'm proud to have worked across the aisle to make real progress in reducing gun violence by getting guns out of the hands of domestic abusers.
We live in a troubling time for our country. We have an administration in Washington that is constantly assaulting many of the values that Americans hold dear: assaults on the free press; assaults on the independent judiciary and sexist and racially charged language have become all too commonplace.
I stepped up to run for congress because i truly fear how much damage can be done to our country in the next two years by this president and the congress that enables him. But also because I've proven that I am a thoughtful and successful legislator who delivers real bipartisan results for my constituents. And I know that we can and must be better than the status quo.
Thank you for having me here today and I look forward to your questions.
HER RESPONSE ON SOME OF THE TOPICS:
ON TAX LAW:
QUESTION: Last year, congress adopted and the president signed into law the tax reform bill that lowers the corporate and individual income tax rates for most Americans. How would you describe the benefits or shortcomings and how would you make it better?
HER ANSWER: We need a tax system that is fair and that benefits the middle class. But Compstock/Trump tax scam does the opposite. Republicans have shown us their priority on taxes. Over four fifths of the benefits of the tax law goes to the top 1%. They are mortgaging our children's and grandchildren future by permanently raising the deficit by $1 trillion a year.
In fact, within two years, interest on the debt will be the fastest growing part of the federal budget. You all are business people; you know that is not a sustainable model. It is not a sustainable model for our business and it is certainly not good for our nation. It will severely impact America's ability to compete in the world.
And the cap on the state and local interest deduction negates much of the benefit for many northern Virginian families. In fact, big corporations are spending 98 times more on stock back buybacks than they have on wage increases or bonuses. and part two of the compstock/trump's plan is to pay for the tax cuts on the backs of federal workers and retirees. My opponent has already voted to cancel the pay raises for federal workers that were scheduled to take place.
Next on the block: Social Security and Medicare. In Virginia, we can't keep printing money like our friends across the Potomac do. I'm proud to have balanced eight budgets during my time in the state senate. Our tax priorities need to benefit the middle class and encourage business and wage growth but my opponent's plan does neither.
ON UNIONS AND PLA'S (PROJECT LABOR AGREEMENTS)
QUESTION: Good morning. Card check and PLA's, do you support the right of America's workers to a secret ballot election to decide to form a union. And similarly, do you support project labor agreements on all federally funded projects?
ANSWER: Unions brought America the weekend, paid medical leave, vacation time… and they produce a quality product for a great price. i do support project labor agreements and we found that when we implemented them, we end up with projects that are completed on time and under budget.
There has been a lot of war on American unions. And in Virginia, there was an attempt to enshrine right to work in the constitution. That's simply union bashing. People need to have the right to unite and come together and fight for equality working conditions.
What we have seen in Virginia with the low bid and low price contract is that we end up with the low quality product. And we are seeing that with phase two of the silver line, where there is a federal case going where there is are subpart materials being used for the concrete stations.
That will cost us more money in the long run. We need to support our workers and we need to support our unions.
ON HEALTH CARE REFORM:
QUESTION: The affordable care act and the changes are brought to the healthcare system are subject to debate more than eight years after the legislation was enacted. What would you suggest congress do to improve the act and what ideas do you have to expand coverage and curb the rapid rise in cost?
HER ANSWER: Thank you. I believe access to quality affordable healthcare is a right for all, not a privilege of the few. The rising cost of healthcare is one of the greatest challenges facing American families.
In Virginia, I was proud to be part of Virginia's Medicaid expansion where we expanded access to affordable care to up to 400,000 needy Virginians. And that it's good not only for Virginians' physical health, but also to our fiscal's health; It is going to bring more than $5 million dollars a day back to Virginia and businesses are already hiring to meet the new demands.
There are things that the federal government can and should do immediately to help stabilize our healthcare markets. They need to take measurements to stabilize the individual markets and bring premiums under control. They need to allow Medicare to negotiate prescription drug prices. We already do this at the VA. That could save Medicare $2.8 billion dollars a year. And the FDA needs to do more to speed the approval of generics and bio similar drugs that are cheaper than name brand drugs.
In contrast, my opponent voted to repeal Obama care six times. She voted to repeal the individual mandate and a result, premiums in Virginia are going to go up 64% in the coming year. For the past eight years, my opponent and the republicans have been preaching a message of repeal and replace. Their actions show that they have no interest in solutions, only sabotage.
Unlike them, when i go to congress, I will work across the aisle to find real solutions.
ON EDUCATION:
QUESTION: Most CEOs and economists agree that developing an educated, skilled, and adaptable workforce, is among the most important issues challenging America's economic growth. What role do you believe Washington should play in addressing that issue?
HER ANSWER: I am entirely the product of public education from grade school through grad school. And I believe firmly that every child deserves a world-class public education; no matter what their zip code.
In the general assembly, I was proud to have sponsored legislation to bring full-day kindergarten to Loudoun county and voted to give Virginia teachers much needed pay raises, and begin eliminating unnecessary standardized test so that our teachers can spend more time teaching the whole child and less time teaching to the test.
States and localities know best how to educate kids. The federal government can help by not imposing swiping mandates on our k-12 schools and making sure state and localities have the funding they need.
We need to teach kids real life skills to compete for jobs today and of jobs of the future. This includes things like more emphasis on stem education and career and technical education. Our kids need to become creative, critical thinkers, communicators and collaborators.
We need to pay our teachers a competitive salary so that we can retain the best talent. And we need to adequately fund school construction as a part of our nation's infrastructure plans.
Another way that our federal government can help is when it comes to college affordability. In the general assembly I was proud to have created this office of student loan ombudsman; to act as an advocate for kids with their student lenders. And to work to reign in for-profit colleges who were acting on scrupulously.
In congress, I'll make sure the government continues to fund Pell grants, Stafford loans and other federal grants and loans and fight back Betsy DeVos and her agenda to put for-profit schools over our children's education.
ON IMMIGRATION:
QUESTION: Do you support comprehensive immigration reform including resolving the status of undocumented workers and other residents, and what other specific immigration reform proposals would you support?
HER RESPONSE: America is a nation of immigrants, and our diversity is a great source of strength for us here in northern Virginia. But today our immigration system is failing. It's hurting our country and making it harder for immigrants to contribute to our economy.
We need to address our immigration challenges in a bipartisan and comprehensive way. But president trump's divisive rhetoric and policies are only making that more difficult.
Immigration is vitally important to our northern Virginia economy. We have many tech businesses that rely on h-1b visas, and we have over 30,000 unfilled cyber jobs here in Virginia.
Our farmers rely on seasonal immigrant laborers, and we need to make sure that we have them. We need to find the right balance that gives American workers the chance to succeed but still allows immigrant workers to fill the gaps that are holding back American businesses.
In contrast, there's been republican control of congress for years, and they've sat on their hands and put kids in cages. Our congresswoman who purports to be a moderate and independent voice, refused to join her republican colleagues in signing a discharge petition that would have allowed a bill to the protect dreamers to come to the floor for a vote.
Instead, she voted for a partisan bill that doesn't adequately address our broken immigration system, failed to protect dreamers, makes deep cuts to legal immigration, which has benefited many of her constituents, and eliminates asylum protection.
In congress I'll work for true comprehensive immigration reform.
OTHER TOPICS TOUCHED IN THE DEBATE:
COST OF HOUSING

WAGE FREEZE ON FEDERAL WORKERS

INDEPENDENT CONTRACTOR RULES

INCREASE OF DOMESTIC FLIGHTS

FEDERAL AGENCIES REGULATIONS' BEST PRACTICES