EASTERN DISTRICT NOTIFICATION - Alignment of Regional Councils
SPECIAL ANNOUNCEMENT
Attention Members of the UBCJA, Local 197:
Effective May 30, there has been significant structural changes in our local organization and territory that affects this region. Please read carefuly the following official notification from Vice President Mike Capelli, from the Eastern District.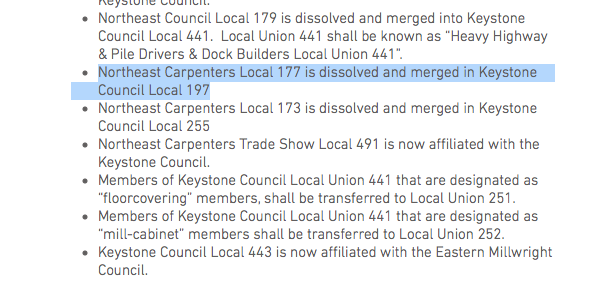 Vice-President Capelli explains:
"The UBC's mission is to create abundant work opportunities for our members and employers to achieve 70% market share. After a comprehensive analysis of shared markets in the Eastern District, it was concluded that the membership of the region would be best served by consolidating existing markets currently shared by multiple regional councils. This action will provide benefits to our members including a stronger alignment with existing construction markets and significantly improved contractor mobility and member portability."
"Progress is impossible without change. The adjustments we make today will put us in a stronger position tomorrow. The Regional Councils are working hard to limit the disruption that usually comes with change, so every precaution is being taken to make this consolidation as smooth as possible for everyone. I ask that you get informed and help your brothers and sisters make this transition a positive experience for all. Our commitment to you remains the same: to ensure openness, transparency, and accountability in council operations while representing the best interests of our membership."
Fraternally, Michael Capelli
Vice-President, UBCJA Eastern District
Click here to see the entire OFFICIAL COMMUNICATION.