SUMMER EVENTS
Para ver este mensaje en Español, presione AQUI
APPRECIATION PICNIC
We are proud to announce the upcoming appreciation day for our members and their families in celebrating our local picnic at the Six Flags Park in Landover, MD
SIX FLAGS AMERICA
13710 Central Ave, Bowie, MD 20721Saturday, August 17, 2019
Park Hours: 10:30 am - 9:00 pm
Lunch: 12 pm - 3 pm
Mark your calendar. Make plans to come with your family to enjoy this nice event.
How to Obtain Tickets
Box Office Locations:
8500 Pennsylvania Ave. Upper Marlboro MD 20772
801 W. Patapsco Ave. Baltimore MD 21230
Office Hours:
7:30 am - 4:00 pm.
(Tickets available through August 14 or until sold out)
Tickets can be purchased via phone, by calling:
(301) 735-6660 or at (410) 355-5555
HURRY. ONLY FEW TICKETS LEFT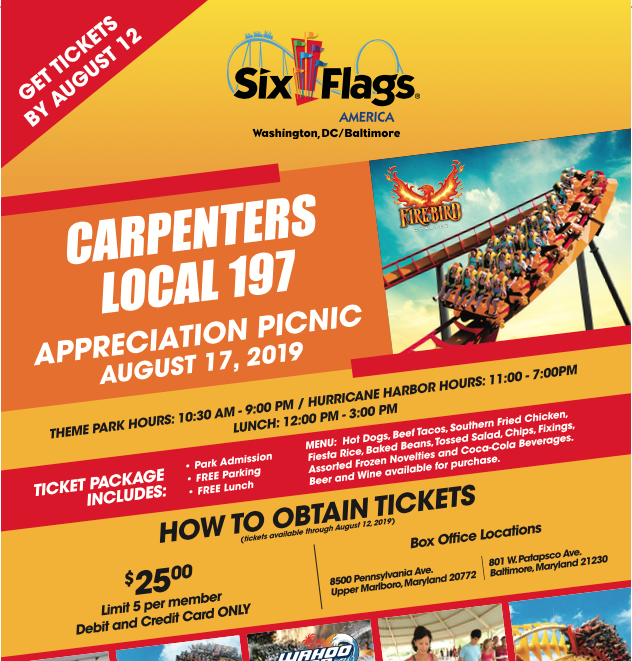 SPECIAL NOTIFICATION
Amendment to Bylaws - Local 197 will be conducting a vote on
proposed changes to our local union
bylaws, during our regular monthly
meeting on:
Wednesday, August 14, 2019 At 6 p.m.
It will be of your best interest to attend
and to participate in this event.
Executive Committee UBC Local 197
MUP's
These coming days, our local will be scheduling more events for Member Union Participation opportunities at places near you. Stay tuned.
UNEMPLOYED?
If Available for Work:
When looking for work, you can opt to sign up in our Mix 20/20 Referral System, by calling:
1-800-735-1829
(Have your union ID number ready, and follow the instructions)
IMPORTANT:
Carpenter Skills Form needs to be completed in Order to Register and be Dispatched. Go to your union office closest to you and ask for one to fill up.
To learn more, go to council's website page: Click Here.
TRAINING
Our training center will be slowing down classes during summer break, except for some contractor requested classes, all other classes for the next semester will be announced and posted in mid August.
If you are interested in any particular training or certification, please submit a request by filling up this form:
MACTC have added capabilities to their website. You can now sign up to classes online. Remember, seats are limited, so sign up early and put a calendar reminder.
Now it is easier to sign up. Go to School's website page and follow the instructions: Click Here.
MONTHLY LOCAL MEETING
Our next local union meeting is this Wednesday, August 14, at 6 p.m., at the union hall in Upper Marlboro, MD.
We hope to see you then.
Fraternally,
Executive Committee