Greetings Brothers and Sisters,
We hope you all are doing well. Here we have some relevant information to share that may be of your interest.
CONTENT:
197 Local Meeting /Dues
MUP opportunities
Member Assistance
Mix 20/20
Recruitment
Training
Election Victories
Local Union Meeting
Our next local union meeting will take place on Wednesday, December 11, at 6 p.m. at the union hall in Upper Marlboro. This time the entrance will be in the back of the building.
We will be celebrating a Christmas Dinner for our members after our regular meeting. Please bring your union card with you. Also make sure you are up to date with your union dues.
Dues
Dues can be pay over the phone by calling your local union offices during office hours at (301) 735-6660 or at (410) 355-5555 in Baltimore.
Notice: there is a $3 dollar transaction fee when paying with card.
You can also pay in person or mail your payment with check or money order to our main local union address. Make check payable to "Local 197".
Local 197
Financial Secretary
8500 Pennsylvania Ave.
Upper Marlboro MD 20772
MUP's
Did you know you can see your union participation and other records online, such as:
Your preferred work area
MUP's that you have participated
Union Status
Your contact information
and more
This is as easy as clicking and logging into your personal Mix 20/20 account:
https://www.mix2020.com/member/kml
Our local is scheduling events for Member Union Participation opportunities (MUP's) at places near you. Call your local union for locations and try to have your two participations done before the end of the year.
In the DC Area:
(301) 735-6660
In the Baltimore Ara:
(410) 355-5555
There are incentives to those that get involve. See council's add about these incentives:
https://kmlcarpenters.org/mup/
Member Assistance
KML COUNCIL MEMBER ASSISTANCE PROGRAM (MAP)
We all need a helping hand from time to time. As members of the Keystone + Mountain + Lakes Regional Council of Carpenters, you can apply for assistance through our Member Assistance Program (MAP). Under this program, members can qualify for assistance with dues or costs incurred as a result of a catastrophic event.
Check council's website for more information:
https://kmlcarpenters.org/map/
Mix 20 20
Available for Work?
When looking for work, you can opt to sign up in our Mix 20/20 Referral System, by calling:
1-800-735-1829
(Have your union ID number ready, and follow the instructions)
IMPORTANT:
Carpenter Skills Form needs to be completed in Order to Register and be Dispatched. Go to your union office closest to you and ask for one to fill up.
To learn more, go to council's website page: Click Here.
Experienced Drywall Mechanics
Local 197 continues recruiting council wide for journeymen and foremen for various large projects in the DC and Baltimore Area.
See add for more information:
CLICK HERE
Journeyman Upgrade Classes
Be the best you can be. Seize this opportunity and refine your skills to be more employable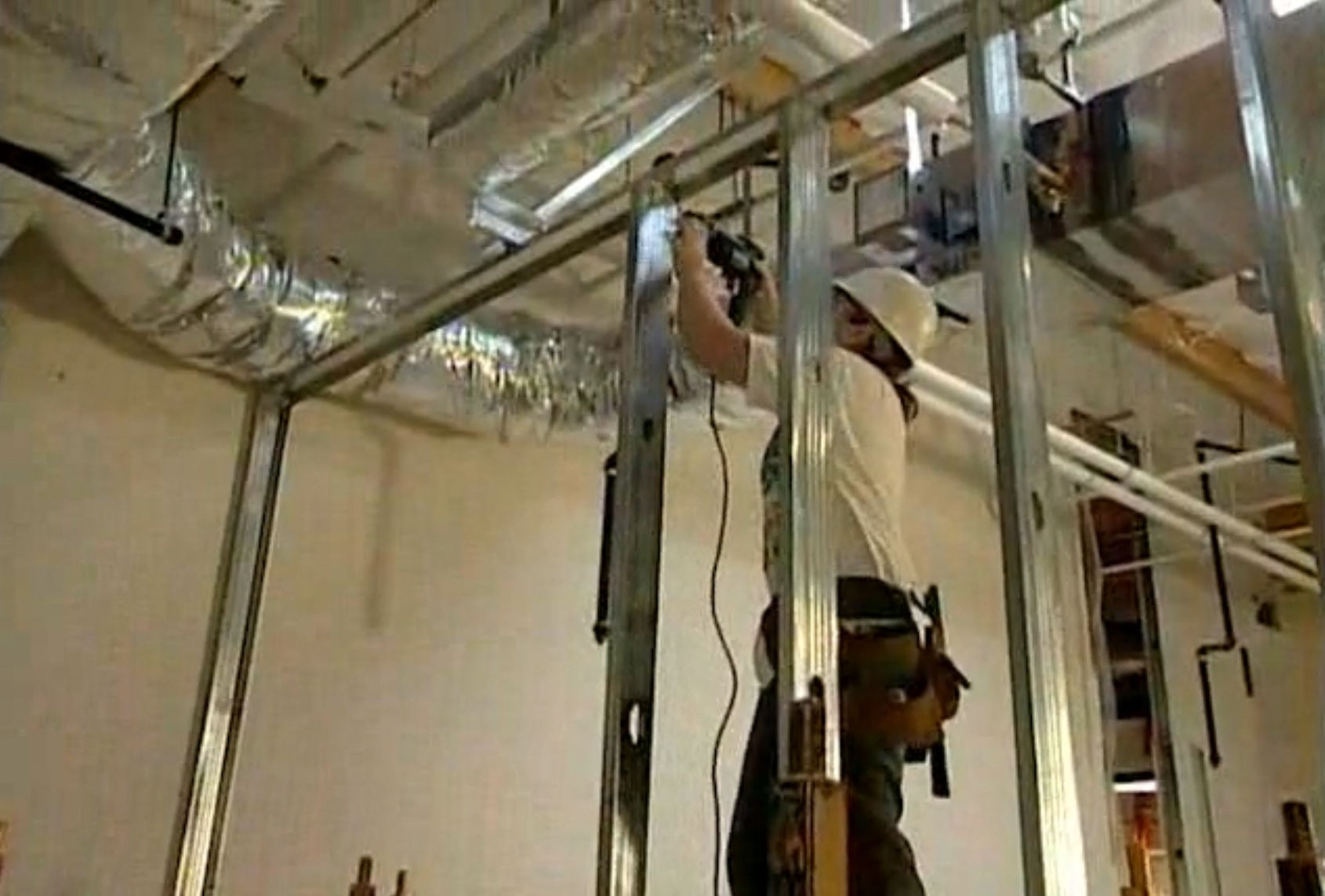 Upper Marlboro and Baltimore training centers will have instruction to meet contractors needs for upcoming work opportunities. You can enroll to classes on the web. Instruction is for UBC union members only at no cost.
New clases are posted online daily, so check frequently for updates.
Drywall Production Class:
Tuesday, Wednesday, and Thursday
December 10, 2019
7:00 am - 3:30 pm
Upper Marlboro Training Center
Print Reading Class:
Five Saturdays
Starts January 4, 2020
7:00 am - 3:30 pm
Ashland, VA Training Center
UBC Scaffold Erector Class:
Monday through Friday
Starts January 6, 2020
7:00 am - 3:30 pm
Upper Marlboro Training Center
ONLINE REGISTRATION ONLY ENROLL EARLY BECAUSE SPACE IS LIMITED
Now it is easier to sign up. CLICK HERE to go to school's website page. Follow the instructions:
NOTE: IF YOU EXPERIENCE PROBLEMS WHEN SIGNING UP, PLEASE CONTACT THE TRAINING CENTER NEAR YOU TO FIX THE ISSUE:
UPPER MARLBORO TRAINING CENTER
8510 Pennsylvania Ave. Upper Marlboro MD 20772
(301) 736-1696
BALTIMORE TRAINING CENTER
1407 Rome Rd. Halethorpe, MD 21227
(410) 737-9670
ASHLAND TRAINING CENTER
10238 Sycamore Drive, Ashland, VA 23005
(804) 966-9340
Election Results
Political Action Committee worked hard these past election season. They are glad to report that thanks to all the time put by many of our members, we were able to have many of our endorsed candidates being favored in their elections.
Now the real work will start when these elected legislators get sworn in in January 2020. We will push hard to make sure real changes with strong pro-worker legislation bills get passed. Bills that can translate in more good paying jobs and better working conditions and benefits for all working families.
Looking forward in counting with all of you to make it happen!
Endorsed Candidates: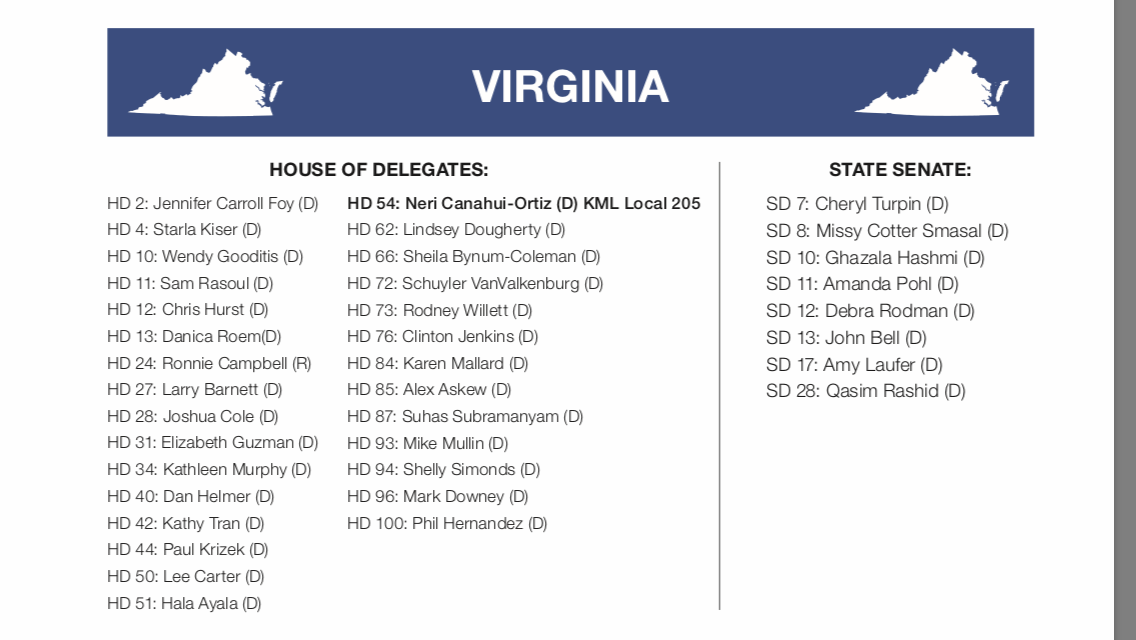 We hope you and your love ones have a wonderful thanksgiving day!
Fraternally,
Executive Committee